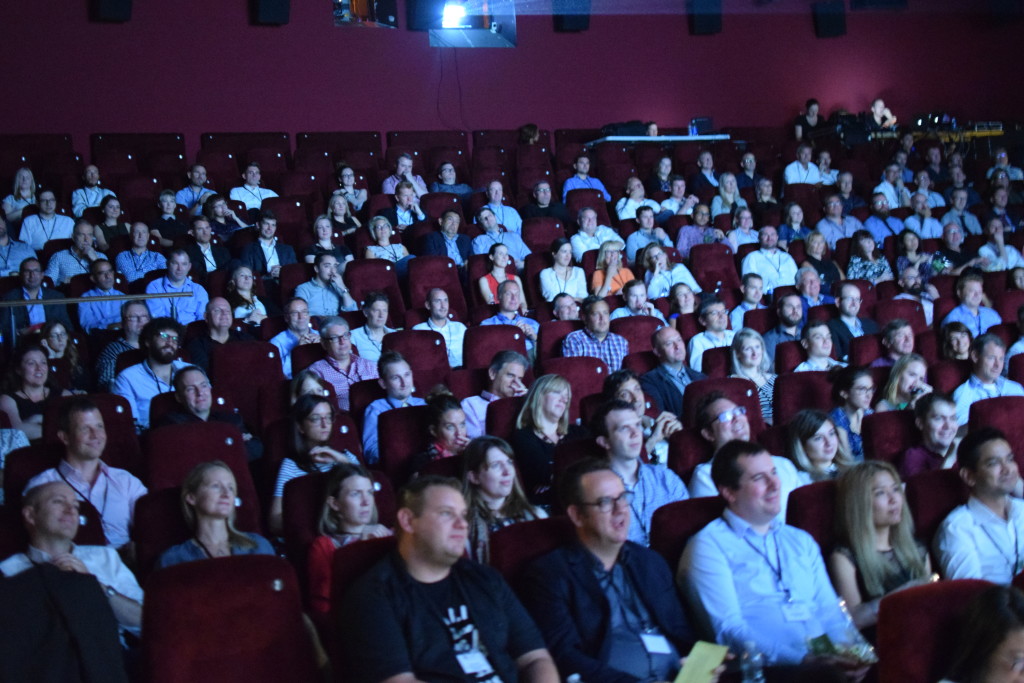 Entertainment Industry Gather for BASE MESA Entertainment Summit
LONDON, 7 SEPTEMBER 2016: Latest insights into the home entertainment industry were today revealed at the BASE MESA Entertainment Summit.  As over 300 guests from across the industry representing stakeholders from the UK, Europe and US, gathered at the event which brought together the BASE Category Showcase and the MESA Transforming Home Entertainment Summit under one roof.
Ampere Analysis, a new breed of analyst firm specialising in big-data analytics around home entertainment, pay and multiscreen TV as well as next-generation content distribution, opened the event with analysis covering physical and digital formats, highlighting a £1.3 billion opportunity for film and TV as economic growth outpaces spending on entertainment¹.
The UK Home Entertainment category was valued at £2.24billion in 2015, performance across 2016 has been steady with premium products performing well. A strong line up of diverse content spanning blockbuster franchises through to special interest comedy is expected to close the year with further growth.
Key programme highlights from across the event included, Luke Bradley-Jones, Director of TV and Content Products at Sky, who in a presentation entitled The Digital Ownership Opportunity, shared insights into the Sky Store Buy & Keep service and the potential that it sees for digital ownership in the home entertainment market.
Luke Bradley-Jones, said; "As shared at today's BASE MESA Entertainment Summit, Sky Store is demonstrating that there are opportunities in the market to grow ownership.  We are seeing strong evidence that we are bringing new and lapsed customers to ownership through Buy & Keep with 27% of customers who purchased Star Wars: Episode VII – The Force Awakens not having bought or rented a movie in the last 12 months, with a similar figure of 21% for customers who purchased Deadpool.  Ownership across all formats is crucial for the future of the category and the BASE MESA Entertainment summit provides us with the perfect opportunity to come together and share our collective knowledge to strengthen the ownership proposition. We need to ensure that as an industry we are each taking responsibility for keeping consumers interested and providing ease of product use and simplicity of messaging to draw new and lapsed consumers to the category."
In addition, lead speaker Marcus Arthur, President, UK & Eire; ANZ and Global Advertising, BBC Worldwide brought to life insights into BBC Worldwide's UK business, and shared a sneak preview of future content, in a presentation entitled Making the Unmissable Ownable. 
Speaking at the event Marcus Arthur, said; "BBC Worldwide aims to be the premium content company that inspires global audiences and in the UK that means extending fans' enjoyment of the content they love across a variety of platforms, formats and categories from DVD and downloads to merchandise and live events. In particular we want to make ownership across all platforms as easy and appealing as possible and the BASE MESA Entertainment Summit is a great opportunity to share insights with colleagues in the entertainment industry to ensure we're doing just that."
The event which was hosted by presenter, writer and comedian, Alex Zane also gave the audience an exclusive preview of content from the future video category slate.
During the afternoon a panel of senior executives from across the industry, shared their thoughts on Steering the Video Industry Into the Next Decade, the panel included , Aodan Coburn, Executive VP International, Sony Pictures Home Entertainment, Ian Foster, Managing Director UK, NBC Universal, Robert Price, UK Managing Director, Twentieth Century Fox Home Entertainment, John Rodden, General Manager Home Entertainment, StudioCanal and was moderated by Melanie Nicholas, Business Consultant, Odeon Cinemas.
Further highlights from the afternoon included;
The Catalogue Opportunity

Rudy Osorio, Head of Film and TV at HMV

Making a Success of Ultra HD Blu-ray

Victor Matsuda, Chair, Blu-ray Disc Association Global Promotions Committee/Vice President, Blu-ray Group, Sony Corporation

UHD – Industry Status Report

Hanno Basse, CTO, Twentieth Century Fox and Head of UHD Alliance
Rob Carroll, Senior Director, Dolby
Dan Schinasi, Director Product Planning, Samsung Electronics

Next Generation Electronic Sell-Through

Brandon Di Massa, VP, International EST Development, NBC Universal
Collaboration and Trade Bodies

Liz Bales, Chief Executive, BASE, Amy Jo Smith, President, DEG and David Millar, Director of Communications, MESA Europe
Liz Bales, Chief Executive, BASE, said: "We have had over 300 senior people from across the category join the event today, including distributors, retailers and those involved in the supply chain.  It's essential that in this multichannel category there are opportunities such as this to enable us all to share knowledge and learnings, with the ultimate goal of creating a truly joined up approach to category promotion."
Jim Bottoms, Executive Director, MESA, said: "This really was a unique event which totally fulfilled our objectives. The industry is becoming much more integrated and as a result there is a huge hunger, across every sector, to learn more about other aspects of the business. In setting out the agenda for the day this was very much front of mind and from the comments earlier it is clear that we achieved this."