Please join BASE & The Digital Entertainment Group International (DEGI) as we welcome our members, partners and a select room of your industry colleagues, for an exciting new event this December.
For the first time, BASE & DEGI will combine and expand their AGMs, bringing our Boards, Committees, guests and industry experts together for an interactive session covering:
An expert look at the themes shaping 2024
Spotlight analysis of key industry strengths in 2023
A new International Study: the Cultural and Emotional relevance of Film & TV
Christmas networking drinks and nibbles, in association with charity partners for the 2023 Wrap Up: Dost and Welcome Newham, lending our support to gift those in need this Christmas
For the final portion of the event, we will work together to wrap presents to be gifted to children in need this Christmas, and we invite you to support this effort by donating your merchandise (ideally between a value of £5- £25 per gift) including clothing, stationery, toys, books etc. These gifts will be given to boys and girls aged 0-18 and will need to be delivered directly to Sony Pictures shortly prior to the event. Please contact Vicki to arrange your merchandise donation.
This event is exclusive and free to all BASE and DEGI members. We have limited, first-come, first-serve spaces available for non-members. Non-members will need to provide a per-head donation to the chosen charities to attend the event.
Alternatively, if you do not have merchandise to share and would prefer to make a direct donation to the charities, please get in contact with [email protected]  
With thanks to our hosts: Sony Pictures Entertainment UK, The Brunel Building, 2 Canalside Walk, London W2 1DG
Supporting Dost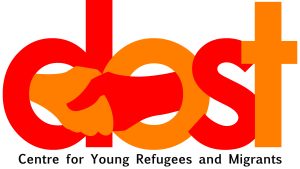 Dost Centre is a safe, fun and welcoming place for young people, aged 13-19 years of age, from across London, who come from a refugee or migrant background and need somewhere to make friends, improve their English, stay fit and healthy, in body and mind, see new places, learn new skills and start to build a new life for themselves in the UK.  We aim to create positive memories and new opportunities.